Effective Daily, Weekly & Quarterly Planning
Module:  How to Do Cold Outreach                                   Session Number: 13
Session Title: Effective Daily, Weekly & Quarterly Planning
Session Overview: It's important for you to implement each step throughout the process rather than waiting until the very end to apply them. Once you have created an irresistible value message and created a prospecting flow process, it's important that you schedule effective activities. 
Training Principle:  In order to maximize your time, provide strong value, and close more deals, you must plan your daily, weekly, and quarterly activities.  
During this session you will learn:
Why it is important to do daily planning

How to effectively do daily planning

How to plan with the

12 Week Year

(Book Recommendation)

  
Step 1:  Each business will likely track different KPIs in order to determine its success. In most cases, you will have activity-based activities and outcome-based activities. (Remember that yours won't look exactly like ours.) These could include emails, phone calls, conversations, demos, and negotiations, among other things.
Determine the number of activities you must carry out each day in order to be most effective.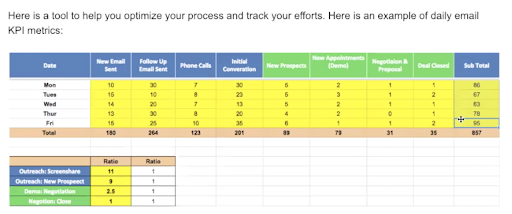 Your situation will vary based upon the kind of company you work in. You must determine which of these activities are most valuable and conduct those during peak hours. Other activities, like creating reports, will be best completed outside of your peak hours. 
Step 2: Schedule each day according to your flow process. Schedule emails, phone calls, administrative tasks, and any other tasks that are part of your sales process. If you're using a tool like prospect.io, it may help you track these activities.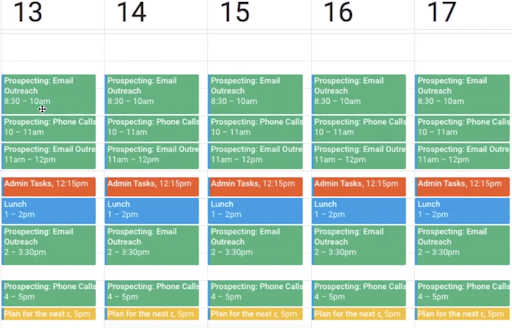 Your day may look different, but be sure to schedule your activities. Always leave a buffer zone for unexpected things that arise. Also, leave yourself time at the end of every day to plan your next day's activities. 
 Step 3: Check out the book the 12-Week Year to help you break your year into quarters. It will help you identify your top goals and then determine which steps will help you accomplish those goals.  
Tasks to Implement: 
Determine your KPIs

Identify how many activities you must complete in order to meet your goals

Schedule your activities each day to accomplish those goals
Session Recap: Once you've identified your ideal customers, you can schedule all the activities that will help you connect with those prospects. Identify the tasks that are most important to your success and schedule those tasks during your peak hours. Save the smaller tasks for off-peak hours during your day.